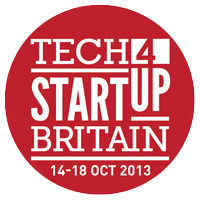 On Monday 14 October I was in London as finalist to pitch a game to the Chillingo team as part of the week long Tech4Startup Britain event being held in Canary Wharf.
The Chillingo Team were:
Matt Dixon, Sales & Business Development Director, Chillingo
Andy Needham, Head of Production, Chillingo
Daniel Tausney Public Relations, Chillingo.
As a finalist, I was pitching my cocos2d game, "Bootleggers of America" to Chillingo; perhaps the UK's biggest iOS games publihser; it was an incredibly once-in-a-lifetime occasion to be pitching to a fantastic games publisher amongst such a fantastic and diverse crowd.
About the game
The game I was pitching was "Bootleggers of America", a Prohibition-era pick-up and deliver economic game that is similar to the old space trading games of the 80s, or if Drug Wars of the early 1990s, except the twist in my game is that you are responsible for producing your own goods, picking your own goons and making much deeper decisions beyond buying low and selling high.
The game takes ideas from the PC-game, "Gangsters:Organized Crime", and other mafia trading games to create a fictional world where you play as a Mafia don of your own crime family with the idea to make as much money from Speakeasies and Illegal bootlegging operations during the Prohibition-era.
Although the consensus from the mobile app experts was that mobile players want to "dip in and dip out", and that long-haul strategy games do not work well on mobile; I have seen a few games that have proven that they will work for a specific niche of players.
My game plays is aimed to this niche and is a premium, solitaire, long-haul strategy game designed to play on the train, I felt that with games like "Transport Tycoon" recently being released on iPad that the idea that premium long-haul strategy games for iPhone, iPad can work.
With this in mind, I felt that Chillingo could help get it published and help prove that the market isn't about 15-second games.
My pitch to Chillingo
My pitch was about getting their help to turn the game from what it is now, and turn it into an isometric city with Game Center integration and allow you to play against other players; of course this would require servers, and a large scale technology support that only Chillingo or other games publishers could provide.
This would mean, helping out with new art work and giving help on the technical level to provide the game servers similar to the other games they currently publish.
Post-Pitch advise
Rightly, Chillingo felt the game didn't seem innovative or brough anything "new" to the table; plus they could not help with the technical challenge of delivering content via servers, websites, etc; and advised me to look at the game again and try to deliver such a product myself.
The future for Bootleggers
Right now, I feel the game needs to be refreshed with an Isometic city, and integration with Game Center and the ability to play against other players.
In order to do this, I'm going to need raise funds from something like Kickstarter or IndieGoGo.
When this will happen, I'm not sure; there are a few things in flux — but releasing a premium game that caters to the fans of long-haul strategy games, the mafia theme and "Gangsters:Organized Crime" into a strategy game that people will enjoy.
Other pictures I took;